Things are getting done, slowly but surely. I am not so great at checking things off my list BUT I still frequently write a paper list and cross things off!!!
Just yesterday we had a couple accomplishments ... headline news!!!
Rick
peed
on
the potty
all
day!!!!
Jacob's
baseball team had their
first
game and
WON
!!!!
Okay here I go with my list, I am using the same one again and adding a little!!!

My To Do List:
Organize Boy Clothes -
YEAH! I did this and have four boxes to give away!
Clean Out The File Cabinet
Write 3rd Blog Post for:
Beautiful Like Me
2nd attempt at making yogurt -
WOOHOO, it came out great!!!
Work on Garden Plan: what are we panting and where, etc...
Have dinner ready on time, almost every day!
Finish some blog posts that I have started!
Take kids to the zoo -
we are headed there today!
Clean off porch
Big Project
Learn Wordpress - oh my! oh my! oh my!
Redesign my Blog
Kick-off my very first Give-a-way!!!
Want to start your own To-Do List, stop over and visit Lisa at
Crazy Adventures in Parenting
with her To-do Tuesday!
Also check out The Owl's Nest: From To-Do to Ta-Da!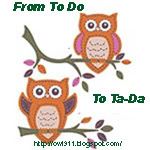 Have a wonderful day! Happy list making!