There are lots of fun stuff going on in the bloggy world! So go ahead and check out some of these other blogs and links that I have added, they are so much fun!!!
Check out some of these wonderful sites that are participating in give-a-ways!
My Baby Bump Maternity
, has some very cute maternity clothes and gifts!
Christy's Creations
, has some very cute pins, necklaces, purses and other beautiful items!
See Kai Run
, check out these absolutely adorable and functional shoes for little ones!
Adventures in Babywearing
, also has a give-away going on!
5 Minutes for Parenting
is giving away some yummy treats!
Close To Home
is giving away a great toothbrush!
The Cloth Diaper Whisperer
, also has a great give-away going on!
And here is some more fun and exciting news,
Mamarazzi
has a cool Favorite Things Swap going on, so go check it out, it is sure to be lots of fun!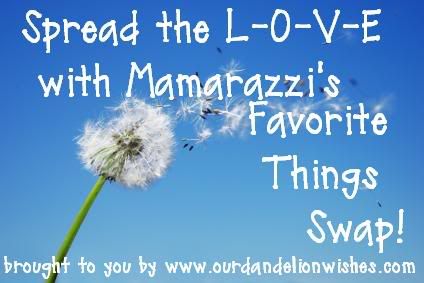 Go forth and have fun. Have a beautiful day!